To equip and empower every believer to carry the manifested presence of Jesus Christ and the transformative power of God's kingdom to their sphere of influence. Their passion and commitment is to transform nations and regions by empowering local leaders in the seven mountains.
SCRIPTURE
We believe the Bible is the evidence of God's love for us! The scriptures are the divinely inspired, infallible, and authoritative Word of God.
GOD
We believe there is One God eternally existent – one being in three persons: God the Father, God the Son - Jesus Christ, and God the Holy Spirit. God the Father is eternally just, holy, loving, and truthful.
JESUS CHRIST
We believe the Lord Jesus Christ, the one and only Son of God, conceived of the Holy Spirit, born of the virgin Mary, led a sinless life empowered by the Holy Spirit, expressed in miracles, signs and wonders to present God's Kingdom on earth. He was crucified for the sin of humanity, buried, resurrected by the Holy Spirit, ascended into heaven, and seated at the right hand of the Father. Jesus Christ is the only way that leads to eternal salvation by accepting His sacrifice on the Cross. He is fully man and fully God!
HOLY SPIRIT
We believe the role of the Holy Spirit is to convict the world of sin, righteousness, and judgment, and to give new life through faith in Christ by repenting and receiving Jesus Christ as Savior and Lord. The Holy Spirit consistently dwells within every believer to produce godliness and holiness. He provides gifts to every believer for the good of the body of Christ. The Holy Spirit is the comforter promised by Christ to the disciples and believers of the universal church. We live a victorious supernatural life empowered by the Holy Spirit to be His witness!
HUMANITY
We believe all human beings are created in the image of God and made to worship Him and glorify him. However, because of the fall, all humanity is sinful and in need of salvation by grace alone. Apart from the saving grace of God through Christ, all humans face the holy wrath and judgment of God. Fallen humanity has exchanged the worship of the one true God for other things. The Bible refers to this as idolatry—the heart of all sin.
SALVATION
We believe salvation is the gift of God provided solely by His grace and not by works. Salvation is received by faith in the Lord Jesus Christ. Though all men are created in the image of God, the fall has corrupted that relationship. Thus, only through repentance and faith in Christ can that relationship be reconciled in peace. Christ's life, death, and resurrection provide the basis for this restored relationship. Those who turn to Christ for salvation are declared in Scripture as regenerated, justified, redeemed, and brought into the family of God.
THE CHURCH
We believe the church is made up of all believers from every tribe, tongue and nation everywhere for all time. The local church is a group functioning as one body of Christ, making disciples and carrying out God's mission to advance His Kingdom by undoing the work of the enemy. The church as the body of Christ is entrusted with the ordinances of Communion and Baptism.
RETURN OF CHRIST
We believe in the physical return of the Lord Jesus Christ to the earth in order to judge all people and establish His kingdom forever. All people will be resurrected to give an account of their lives before God. Those who have placed their faith in Christ will be welcomed into eternal life with God. Those who have rejected Christ and do not have their sins forgiven will be punished eternally in a conscious state of hell. We believe the Lord Jesus Christ is returning soon. Come quickly Lord Jesus!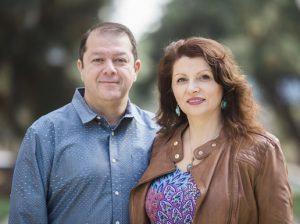 Arman and Petya's natural and supernatural giftings and talents worked together to launch International Academy Higher Dimension.
Arman Lalane is co-founder and Chair of the Board of the Directors of Bridge of Intersection, as well as businessman, and software architect. He holds a Master of Science in Electrical Engineering, and Master and Ph.D. of Applied Ministry and Leadership. He is convinced that science and faith go hand in hand. His passion is to see people restored to the original plan of the Creator so they can enter into their calling to carry the fire for reformation.
Petya Lalane is a businesswoman, speaker, Christian clinical counselor, and ordained minister. She is the co-founder and executive director of a non-profit organization established in 2007, Bridge of Intersection, with two branches, Gate to Freedom and International Academy Higher Dimension.
In the last 10 years, through her private practice in Los Angeles, Gate to Freedom Counseling, Petya has been privileged to touch and transform thousands of lives by bringing wholeness and restoration to individuals and families.
Bridge of Intersection focuses on transformational outreach to the downtrodden in Eastern Europe, specifically to orphans, orphanages and the refugee camps in Bulgaria and Serbia established for Middle Easterners fleeing war torn areas.
In 2018, Petya launched a two-year online school in Eastern Europe--International Academy Higher Dimension. The Academy was established in Bulgaria to train, equip and empower leaders with new mindsets to reform the seven mountains of society and break the poverty, corruption, and stagnation born of former communist rule.
Petya's strategies and ability to establish and implement new solutions in critical areas significantly impacts lives in present crises. To impact future transformation and reformation of a nation, Petya has helped many to step into their leadership destiny by providing training and equipping, helping them to recognize their gifting and calling. Her passion is to replace poverty and corruption with real solutions and reformation.
Our Journey of Faith
Arman and Petya Lalane grew up in communist Bulgaria. Both experienced powerful personal encounters with God in their early twenties. Their journey as a family began in 1993. In September of 1996, the Holy Spirit came upon Petya in an open vision. God spoke to her that their family was to live in the United States and showed her details of His plan for their future. This life changing experience placed a call on their life for a higher purpose that could only be accomplished from a place of deep trust and love of God. They were actively involved as a couple in their local church in Dobrich, Bulgaria. Arman worked as a computer engineer to provide for the family while Petya took care of their two young children in their new home.
However, after praying several months without seeing any opportunities for relocation, Petya felt inspired to start a manufactory for children's clothing. After a few short months, doors supernaturally opened for her business during a very dark time in Bulgaria's economy. Through an organization in England, Petya and her business partner received a grant financing their business endeavor. In less than two years, their company became one of the leading brands in the country. Listening to the voice of the Lord and following Him was key to establishing a prosperous business. During this time, Arman was leading an IT office for an American company in Bulgaria with 10 employees. He was privileged to travel to the United States to take part in some very key meetings.
In 1999, both began to feel the nudge within their hearts that it was time to prepare to move to the USA. Although the family resisted such a big move, God, with relentless love and reassurance, persevered. Within a few months, Petya felt led to sell her business; and on January 20, 2000, her company was sold. At this time, there was still no sign or opportunity for a move. A crisis in the IT industry in the United States resulted in a loss of key clients causing the office Arman was overseeing to close. Arman and Petya both unemployed at the same time–-a time of praying, trusting, and waiting!
Six months later, a call from a company in Los Angeles: God intervened and paved the way for the whole family to relocate. Arman was hired as a computer programmer with a work visa and all relocation expenses covered by the company. The whole family landed at LAX on January 20, 2001. A week after their arrival, Petya had a detailed dream that the company that had hired Arman was going to go out of business. God was preparing them to face the upcoming turbulence! Sure enough, the company collapsed in May, 2001. The family was prepared thanks to the dream God had given Petya. Arman was hired by UCLA Medical Center as Senior Software Engineer before the end of the year. Two years later, a big envelope was stuck into their mailbox…a green card, won through the World Lottery! God is faithful!
After the Lalane family moved to Los Angeles, The Church on the Way became their home church. In 2006, God stirred them up to seek His purpose and to align themselves with His call for their lives. As a result, the nonprofit organization Bridge of Intersection was founded with the support and guidance of TCOW pastors. Currently, the Lalanes are members of HRock Church where Petya serves as a counselor, and both are leading a home church in West Hills, California.
Throughout the years, Arman and Petya have led multiple missions teams to Bulgaria to train and disciple churches in spiritual warfare, inner healing and deliverance ministry. As a result, hundreds have found freedom through inner and physical healing. Through Bridge of Intersection, Petya and Arman have the opportunity to serve prisoners and refugees as well as raising funds to provide for a much-needed remodel of an orphanage of 54 children. The church building of a protestant congregation in Kurdjaly, Bulgaria was also completed through the help of Bridge of Intersection.